Three months after the 7.0-earthquake hit Haiti, our team of 22 volunteers from Sionfonds for Haiti, made up of nurses, doctors, dentists and a midwife, arrived into the mayhem of Port-au-Prince's newly built airport with boxes of medical supplies and great enthusiasm.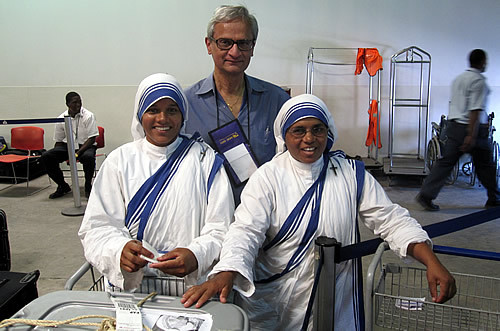 While attempting to sort our baggage I was delighted to meet two Indian nuns from the Missionaries of Charities in their familiar blue bordered sarees – one of them has been serving in Haiti for twenty years.
We soon found our ever smiling Haitian director Guesno, he welcomed us and lead us to the waiting van for our two hour drive to the orphanage we help run.
Fortunately, the orphanage was still standing, unharmed amidst the surrounding rubble of earthquake wrecked buildings, broken roads and piled up garbage. After playing with the orphaned children and checking their status, we started another grueling 4-hour drive to Jacmel:
Our clinic in Jacmel was set up at the local NGO hospital where we saw some 3,000 patients that poured in from neighboring villages for much needed care.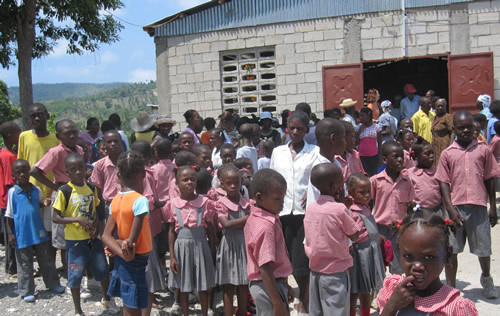 In addition to medical treatment we were able to provide dental care, minor surgery and prenatal care.
After 3 days in Jacmel we drove another four hours towards the hills to set up another clinic at a newly built church. We were joined by two Haitian doctors and scores of young willing Haitian volunteers interpreting and helping in the clinic pharmacy.
Amidst all the chaos it was a gratifying experience making a little difference in the destitute lives of the poor Haitians, especially with the involvement of the local community.
As the Sionfonds team prepared to move onto the next 3-day clinic, I returned with 6 others to Port-au-Prince for our early departure the next day.
As we drove through the ruined capital, the sight of Haitians shacking in thousands of crudely erected tent cities, children running around stinking garbage, women lining up for water, the overall sense of disaster was heart breaking. In the evening it started to rain and the rising stench of sewage was overwhelming.
More than 3 months have gone by and hardly any rebuilding help towards Haiti was evident to us. Our Haitian friends sadly complained how the US army has deserted them in the hands of incompetent UN workers. 
Nobody Seemed to Care for Haiti. But Haiti Will Survive.
The first independent black nation in modern history has proved their resilience through waves of historic calamity. The phoenix of hope and tenacity shall rise from the ashes and rubble of Port-au-Prince.
Meanwhile I shall pray and continue the efforts to rebuild the new Haiti.
– Sakti Das, 2010.
UPDATE…
Sakti was in Haiti 3 months after the quake. Here's an in-depth report from Al Jazeera's Fault Lines, "Haiti: Six months on":
The Boston Globe's "Big Picture" has done a great job of collating some of the most striking and painful imagery of and after the quake:
6 months on, the coverage drips in… BBC Haiti recovery stalled by aid and land issues, Orphans of Haiti … NYT After Quake, Haitians With Dreams Look for an Exit, Haitian Orphans Have Little but One Another … Change.org: A Better Path For Haiti's Recovery … AJE Haiti's dilapidated hospitals. Bangladesh deploys female UN peacekeepers.
Please consider donating & supporting work in Haiti via Sionfonds for Haiti
We'll be adding a list of Haitian groups to support shortly, but if you are looking to start now head over to Sean Penn's J/PHRO