Last month was another one of my annual visits to India and Bangladesh to look into our schools, rural development projects and micro credit schemes.
School Visit
Visiting our schools enables us to meet the children, assess their progress and arrange ongoing scholarship support. Above all we emphasize and encourage their focus on the goal of higher studies leading to meaningful self-reliance.
In Bangladesh I visited a non-governmental primary school near the sprawling city of Khulna. Khulna was my ancestral hometown in the 60s before we emigrated to Kolkata.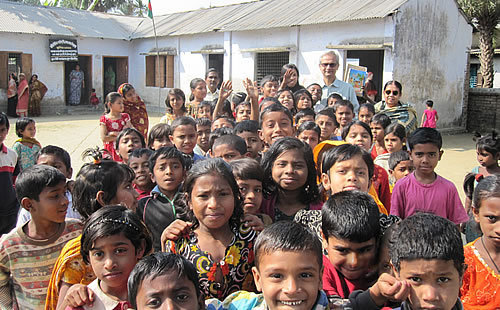 The school of 202 children, divided amongst five classes, has been run by 3 female teachers and a headmaster since 1986. All with miniscule financial help from the City Municipality.
Teachers receive salaries one-tenth of government school teachers, yet they love the students and show an exemplary dedication to teaching.
I assessed their needs of enhancing teachers' salaries, hot lunches or snacks and school uniforms. Once the legal logistics of money transfer through another existing NGO are cleared, we'll start channeling help to them.
Another School and a town City
After taking the the opportunity to visit my old St Joseph's school with some friends I ventured through a radically changed Khulna.
Gone are those bucolic sparsely populated streets with flowering trees, ponds and playing grounds. Unrelenting development has erased and demolished almost all the old structures, now replaced with high-rises and wide paved streets.
Our House
My geographic sense was totally confused. I was almost on the verge of tears not being able to locate our ancestral home; suddenly I found the house where I was born and spent my childhood.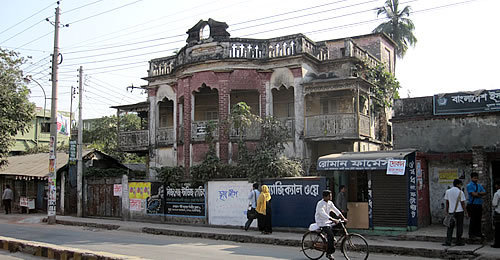 All the neighboring houses have been replaced leaving only our dilapidated house standing in vigil for my return. The neighbors helped me get in through the back door to the large courtyard where we had papaya and a tall flowering Shefali tree. Our small chicken coup was still standing.
Tears welled up in my eyes as I walked out unnoticed. I whispered,
"Sorry my friend that we deserted you. But we both are the victims of religio-political strifes like millions of others. At least you waited for our final reunion. I love you my beautiful birthplace."
Unoccupied and falling apart from neglect, I found my long lost Taj Mahal.
– Sakti Das, 2010.



The remainder of Dr Das' trip included surgeries in rural Guajrat where he was also able to add his O+ mark to an 11,111-strong petition battling an industrialist and Government to stop a cement works displacing 55,000 farmers, 15 villages and inflicting untold damage to livelihoods and environment – sadly, not uncommon in our 'modern' India…

He was also able to meet Baber Ali, the young headmaster we blogged about last month – very much impressed by this now-18yo, he'll be keeping in touch to see how Baber can be helped.