It's 11:20 in the morning… waiting for my flight to Amman, Jordan.
Lufthansa just brought me to Frankfurt from San Francisco. The flight concluded with a sumptuous breakfast before arrival.
I will be serving as a physician volunteer with the Syrian American Medical Society (SAMS) at the Al-Zaatari refugee camp – which opened in July 2012 and now hosts almost 80,000 Syrian refugees.
SAMS is a non-profit, non-political organization representing thousands of Syrian American medical professionals in the US that provides humanitarian assistance to Syrian refugees in Syria, Jordan and Turkey.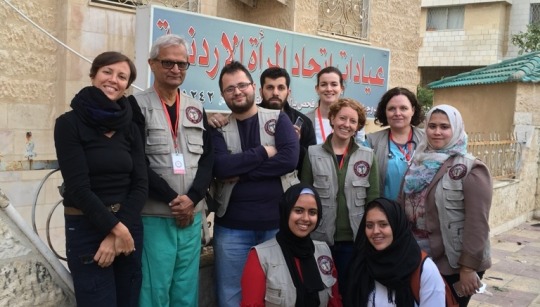 During our 7-day SAMS medical mission in Jordan, I worked in 3 different clinics exclusively serving Syrian refugees.
There were a lot of beautiful children with urologic problems. I advised their parents about proper treatments. On two occasions I saved them from following through on improper surgical recommendations.
On the final day we celebrated our work and received thanks from the Sister of King Hussein.
Petra
The next day we travelled to explore the architectural site of Petra.
In the evening my Jordanian friend Dr. Hussain Abukhadair, whom I met several years back during my urologic mission in Palestine, came to see me.
We have become good friends and shared interesting experiences in Jerusalem. Hussain had taken me to the famous Al Aqsa mosque, a Holy site for muslim pilgrims, where the prophet Mohammed transcended to Jannah (Paradise).
Back to Amman for Dinner
In Amman on the night before my departure Hussain came to my hotel and drove me to his home for dinner. With his wife, his adult son and daughter we chatted through a sumptuous dinner. His wife specially cooked a delectable fish for me that I enjoyed.
As we were eating, Hussain suddenly exclaimed,
"Where is Sheela?! Call Sheela, introduce her to Dr. Das!".
I gathered that Sheela has just arrived from Bangladesh as a contract worker for 2 years service as a house maid.
I was delighted to meet Sheela. To the utter amusement of Hussain and his family, Sheela and I started chatting in Bangla. Sheela was also visibly excited to know that I was also born in East Bengal, which later became Bangladesh.
"Where in Bangladesh are you from?" I asked.
"From Khulna"
"Where in Khulna? I am also from Khulna!"
"Khan Jahan Ali Road"
I jumped up! "Oh my God! Our house is also on that road!"
Sheela was 21 years old. Her father married her off to a 51 year old man when she was 16. Her husband has sent her to work in Jordan to make some money for her family. She has a boy and a girl, 2 and 5 years of age, who are being looked after by her sister-in-law. She misses her children a lot and was having problem with clinical depression.
I was emotionally shaken. I told Hussain to consider her as my own daughter and look after her. Mrs. Hussain promised me to take Sheela to the psychiatrist and do whatever is needed until Sheela returns home after two years. Sheela took my name and phone number and we both were in tears as we parted.
After a rewarding time in Jordan, I left for Portugal the next day….